This month, I was
interviewed over at Cherry Tree Notes
, a fellow writing blog. You all should go check it out!
Books
This month, I read
Terrier
by Tamora Pierce (4 stars),
The Cup of the World
by John Dickenson (1 star),
Warrior
by Bryan Davis (4 stars),
The Black
and
The Blood
by D. J. MacHale (4 stars),
The False Prince
by Jennifer A. Nielson (4 stars), and
The Night Circus
by Erin Morgenstern (4 stars).
Writing Links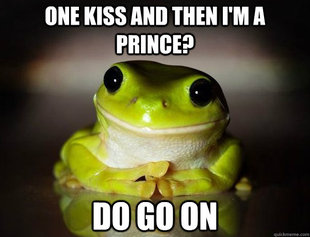 A random cute picture.
This month, I came across an
infinite writing checklist
, courtesy of the author of the lovely
The False Prince.
Andrew Smith, author of
The Marbury Lens
, had a good point about
target audience
. I also found a post on
word count
, the
10 Commandments for editing someone's writing
, a post on how to
keep pushing through
in your writing, and an incredibly helpful
genre map
. I posted a compilation of
bumper stickers for writers,
a post on
word count,
a post on
endings
, and I complained about how teachers draw plot diagrams and
what they should look like
.
Other Links
Here's the first chapter of Maggie Stiefvater's upcoming book,
The Raven Boys
. Libraries have been getting
complaints and requests to censor
The Hunger Games.
It seems that some of these complainers haven't even read the book. I mean, "satanic". Really? And finally, Neal Shusterman's
Unwind
is going to be a movie. While none of us are looking forward to the Roland scene,
here's a clip
of what it might look like, anyway. Because, you know, nothin' like a video of an unwinding to get your day going.
There was also more drama in the YA book blogging world this month, when a rather well-known blogger
admitted to plagiarism.
(And here's a
follow-up post
.) What do you guys think of this? I, for one, am not happy with the bad reputation that book bloggers are going to get if this keeps up. We're all going to pay for a few people's mistakes, if this kind of thing doesn't stop. We've had enough drama in 2012 to last us a looooong time. The thing that bothers me about this, though, is the fact that it's coming from someone with a Candor faction button on their homepage. Make of this what you will.