In my last post, I discussed the process by which I write academic papers. It's a process that has been honed and perfected throughout my high school years, making essay-writing less inefficient, and possibly a little less stressful. You can read
the entire thing right here
, complete with screenshots of each stage in the process. Academic writing isn't noveling, but I've found that being a novelist gives me an advantage when writing for school.
What do essays have in common with novels, though? Aren't they different?
Yes, there is a fundamental difference between the two. A novel is a story, told in the voice of a perfectly unique character. In other words, told however you, the writer, want to tell it. It goes wherever you want, and its only limits are the ones you impose on it. An essay is so much more restricted. You have to use an academic voice. You have to stick to an established storyline or topic, which you can't change on a whim.
Even so, being a novelist gives you an advantage when writing essays. You're one step ahead of everyone else. You've probably had more practice writing than most, if not all, of your classmates. It's probably a little faster, a little more natural for you. You've drilled aspects like
show-don't-tell
,
active voice
, using strong words, etc., into your novel writing, and now is not the time to abandon these things. All these rules still apply to essays.
Just because it's a formal essay does not mean you have to abandon your creativity. So many times, we think we have to use stuffy, formal,
boring
language in our essays. The opposite is true. You can still use fun, colorful words. Novel readers don't want to read about anger, sadness, and happiness. We want to read about wrath, melancholy, and elation. The same applies to whoever is grading your essay. Your essay can use the same varied and creative sentence structures, detailed word choices, and unique ideas as in your novels.
In a way, you're still telling a story. Think of what you're doing when you tell a story: you introduce a character to your audience, put him or her through a series of tests, and bring them out on the other side, into some kind of outcome, positive or negative. An essay is similar. You're taking an idea, presenting it to your reader, proving that its logic is sound, and concluding it in a way that will resonate with people.
Don't be afraid of strong emotions in your essays. Yes, you have to retain an academic level of detachment. But it doesn't need to be dry. Don't tell us that Aureliano is solitary. Paint us a picture of Aureliano working alone in his laboratory, long into the night; living within a chalk circle that no one else may enter; shooting himself, but failing at even that. Evoke something emotional in your audience. Prove to them that you believe in what you're writing, and that they should, too. Otherwise, what's the point? Even if you have to fake the emotion, go for it. You're a novelist, after all. You specialize in conjuring emotions that do not technically exist.
You don't need to go into this with the goal of proving some stiff, dull academic thesis. Have a goal of creating a clear image in your teacher's head of your ideas; of making them feel at least the tiniest hint of emotions. If you can care, show it. If you can't care, fake it. In the end, your teacher doesn't care if
you
care. What's important is your ability to make people think you care.
Throughout high school, I have learned that caring gets me better paper grades. Last fall, I had to write a personal response to Dante's
The Inferno
. I had strong opinions about the piece. Most of them involved wanting to see Dante get a taste of his own medicine. That particular assignment allowed me to express my indignation, so I let it all out. In an academic style, of course, but you could say that I was still ranting, in a way. And I got a perfect score on that particular paper.
No matter the topic, you can find something to go on, either to care or to fake-care. Say you're proving that Piggy's glasses symbolize wisdom and clarity--unoriginal and boring, right? But you're a writer, so wisdom and learning are obviously important to you. And then, maybe, you've found a connection point. Maybe you're writing about the role of fate in
Oedipus the King
. How would you feel if you were fated to kill your father and marry your mother and inspire some truly strange Freudian ideas? Channel some of this. It's all in how you look at it.
Essay writing will never be as fun as novel writing. That's okay. You can make it better, though, by not keeping the two entirely separate. Fiction writing techniques can carry over into academic writing. You still want it to be engaging, even if you're writing about the symbolism of water in
Crime & Punishment
. If nothing else, imagine that the Dead Poets Society boys are staring down at you like the GIF below while you write your essay, expecting something worthy of their reading. I don't know why this might help, but I like the idea of it, so...here it is.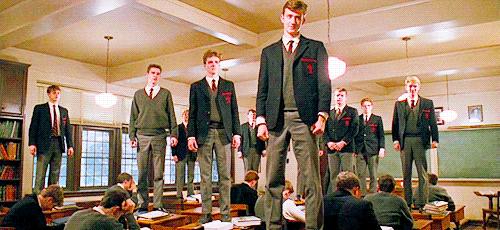 If you want to read a little more about essay writing, here's a fabulous article, literally titled
"How To Write A Great Essay About Anything"
. It uses ancient military tactics invented by the Spartans as an effective way to write an essay. It is quite possibly the best essay advice I have ever come across.
How do you use fiction techniques in essay writing? How do you make the process more interesting and enjoyable?