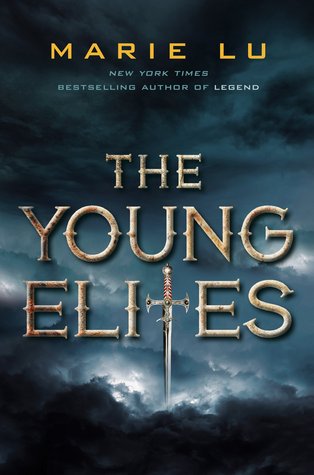 I am tired of being used, hurt, and cast aside.



Adelina Amouteru is a survivor of the blood fever. A decade ago, the deadly illness swept through her nation. Most of the infected perished, while many of the children who survived were left with strange markings. Adelina's black hair turned silver, her lashes went pale, and now she has only a jagged scar where her left eye once was. Her cruel father believes she is a malfetto, an abomination, ruining their family's good name and standing in the way of their fortune. But some of the fever's survivors are rumored to possess more than just scars—they are believed to have mysterious and powerful gifts, and though their identities remain secret, they have come to be called the Young Elites.

Teren Santoro works for the king. As Leader of the Inquisition Axis, it is his job to seek out the Young Elites, to destroy them before they destroy the nation. He believes the Young Elites to be dangerous and vengeful, but it's Teren who may possess the darkest secret of all.

Enzo Valenciano is a member of the Dagger Society. This secret sect of Young Elites seeks out others like them before the Inquisition Axis can. But when the Daggers find Adelina, they discover someone with powers like they've never seen.

Adelina wants to believe Enzo is on her side, and that Teren is the true enemy. But the lives of these three will collide in unexpected ways, as each fights a very different and personal battle. But of one thing they are all certain: Adelina has abilities that shouldn't belong in this world. A vengeful blackness in her heart. And a desire to destroy all who dare to cross her.



It is my turn to use. My turn to hurt.

Released:

October 7th 2014

Pages:

355

Publisher:

G.P. Putnam's Sons Books for Young Readers

Source:

Library

First Look:

*****

I loved Marie Lu's

Legend trilogy

. I didn't need any more prompting than that to pick up this book. Even without that, though, it looked awesome. Secret societies with magic, in a high fantasy setting? YES.


Setting:

****

*

It's a high fantasy setting, with all the usual elements--a magic system, court intrigue, and so on. On top of all that, though, it has an Italian,* Renaissance-y flair. The names sound vaguely Italian, and the general culture and feel of it definitely has that influence. This put a unique spin on the setting. The fantasy elements are familiar, but the culture feels fresh and different. (Marie Lu has a

Pinterest inspiration board

for this book, and it's super cool.)

The other aspect that makes this setting so compelling is its history. The backstory of the disease that caused the

malfettos

and the magical powers is an integral part of the story, but woven throughout in a way that doesn't feel like an infodump. The nation's present reflects its past beautifully. It's an interesting look at how quickly a society can change, and the effect this has on its people.


Characters:

****

*

The character development here is fascinating. The entire time, I found myself rooting for Adelina. She's clever, strong, and has a deep capacity for caring about people. She's also ruthless and deceptive, with a dark past. As the book goes on, she only gets darker, even beyond antihero territory. This is not a hero's story--it's almost a villain's. This is what makes it brilliant. For Adelina, all of her actions make sense. They're justifiable. Marie Lu does not portray them as evil or wrong; she simply presents them as Adelina's truth. It's easy to want Adelina to win, which is the paradox of it. I'm excited to see where Marie Lu takes this character development in the future.

Along with Adelina, we have another character with powers, scarred by the disease: Enzo. He's a betrayed prince, looking to reclaim his throne. He's no more heroic than Adelina, but his motives are still believable. Then there's the courtesan Rafaelle, or the enemy of the Young Elites, Teren. Everyone, basically, is an antihero, which is the beauty of this book.



Plot:

****

*

While it does get a bit slow in places, the plot is complex and dark like the characters. It starts as Adelina's personal journey to overcome the persecution she has faced as a

malfetto

, on trial for murder as a result of her powers. Then it's a struggle to gain acceptance from the rest of the Young Elites, who want to restore Enzo to power. Adelina doesn't seem to care much about that, though--she just wants to protect her younger sister. And she'll do anything in order to make that happen. The plot is twisty, making you wonder where Adelina's loyalties should lie. Or anyone else's, for that matter. Nobody's path is the "right" one. As the plot progresses, it gets darker, and Adelina's path becomes more morally ambiguous. Also, there's a lot of cool magic.



Uniqueness:

*****

It's a high fantasy, and has many familiar elements of the genre. However, its unique setting makes it stand out, as does the fact that it follows the perspective someone other than the traditional hero.



Writing:

****

*

Marie Lu can do both action scenes and emotional scenes, and do them well. The action is suspenseful and exciting. The quieter scenes have the potential to make you feel for the characters, portraying them in an honest, raw light. She creates a setting that you can fully immerse yourself in, both in the details she includes, and her overall sense of tone. It's the kind of narration that flows so well that you hardly notice it's there.



Likes:

I appreciate that the romance never becomes overwhelming compared to the rest of the plot.

Not-so-great:

N/A

Overall: The Young Elites

is a unique, exciting book with an equally awesome Rennaisance-inspired setting. The main character, Adelina, is not so much a hero as an antihero, and later, possibly even in villain territory. She's darkly complex, and her progression is believable, so much that you hardly realize it's happening. That's what makes this book great--it presents a dark character, showing all her motives as honest without placing her as either "good" or "bad". It also showcases Marie Lu's talent for writing compelling plots full of emotion. It's more of a 4.5 than a 4, but I round 4.5s down, so 4 stars it is.
Similar Books:
It features a cast of characters with varying, often contradictory motives, like
Falling Kingdoms
or
The Demon King.
It has a female lead with magic powers, like
The Girl of Fire and Thorns, Death Sworn,
or
Shadow and Bone.
*Speaking of Italy...I'm going to be spending the entire month of January in Rome. More on this later, probably.