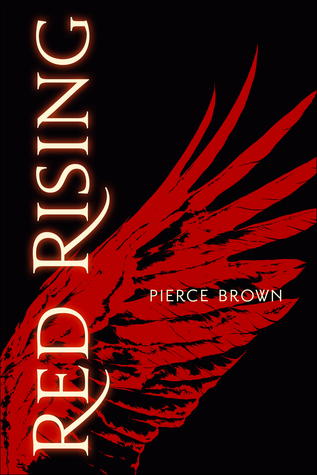 Red Rising (Red Rising #1) by Pierce Brown
The Earth is dying. Darrow is a Red, a miner in the interior of Mars. His mission is to extract enough precious elements to one day tame the surface of the planet and allow humans to live on it. The Reds are humanity's last hope.
Or so it appears, until the day Darrow discovers it's all a lie. That Mars has been habitable - and inhabited - for generations, by a class of people calling themselves the Golds. A class of people who look down on Darrow and his fellows as slave labour, to be exploited and worked to death without a second thought.
Until the day that Darrow, with the help of a mysterious group of rebels, disguises himself as a Gold and infiltrates their command school, intent on taking down his oppressors from the inside. But the command school is a battlefield - and Darrow isn't the only student with an agenda.
Released:
January 28th 2014
Pages:
382
Publisher:
Del Rey
Source:
Goodreads First Reads giveaway
I'm still not sure what to think about this. It begins with a confusing and unnecessary martyrdom. We're introduced to a group of people, the Reds, who are the bottom of society. They're poor, hungry, and ignored by the upper classes. The first quarter of the book focuses on these people, developing the characters and their world.
Then, abruptly, it throws you into what feels like an entirely new plot with an entirely new setting. Darrow is no longer with the Reds--now, he's going to pass as a Gold. In order to move up in Gold society so he can start a Red rebellion, he needs to enter a school that essentially forces its students to compete in a capture the flag/Hunger Games hybrid. This is interesting enough in itself, but it feels awkward to spend so much time developing one setting, and then disregard it for the rest of the book.
The game brings out Darrow's true personality. He's cunning and ruthless, but also deeply caring with those he loves, which is why he gets himself into this mess in the first place. While I couldn't always connect with him or agree with his methods, his motives are believable. His relationships with the other students in the game are dynamic and compelling.
I can't love this book, since the structure of it feels so off. However, I definitely enjoyed it. For the most part, the plot is fast and has its share of twists. Darrow is a likable, believable character. The setting is detailed and well-developed. Recommended for fans of dystopian books or science fiction in general.
Similar Books:
It takes place in a "battle school" like
Ender's Game.
The structure of its society is similar to
A Confusion of Princes,
and it also reminds me of
Avalon.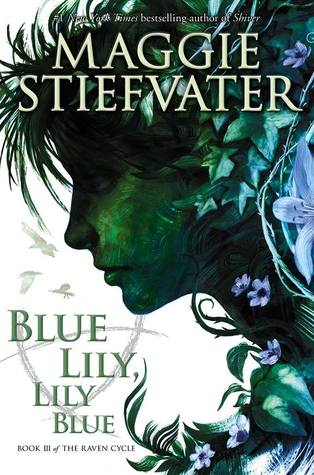 Blue Lily, Lily Blue (The Raven Cycle #3) by Maggie Stiefvater
There is danger in dreaming. But there is even more danger in waking up.
Blue Sargent has found things. For the first time in her life, she has friends she can trust, a group to which she can belong. The Raven Boys have taken her in as one of their own. Their problems have become hers, and her problems have become theirs.
The trick with found things though, is how easily they can be lost.
Friends can betray.
Mothers can disappear.
Visions can mislead.
Certainties can unravel.
Released:
October 21st 2014
Pages:
391
Publisher:
Scholastic Press
Source:
Library
Blue may be the main character of this series, but really, it's all about the Raven Boys themselves. It's an excellent example of how relationship dynamics can turn decent characters into compelling ones. On their own, the Raven Boys are interesting, realistic, flawed characters. As a group, they reach a whole new level.
My favorite person in this series is Adam Parrish. SOMEONE SAVE ADAM PARRISH. He has the most to lose. His chapters are the most interesting. However, the majority of his storyline led up to an intense courtroom scene--and I was robbed of that scene. You get the beginning of it, and then the rest is "offscreen." Why skip over that type of intense conflict without even telling us the outcome? That aspect was frustrating.
Other than that, I have no major complaints. It's an interesting plotline that moves at a solid pace (for the most part--it can run slow at times). Henrietta, where this book is set, is full of odd people that keep you guessing. I can't say I liked it as much as
The Dream Thieves
, but it's still an improvement on
The Raven Boys.
Her throne awaits . . . if she can live long enough to take it.

It was on her nineteenth birthday that the soldiers came for Kelsea Glynn. They'd come to escort her back to the place of her birth – and to ensure she survives long enough to be able to take possession of what is rightfully hers.

But like many nineteen-year-olds, Kelsea is unruly, has high principles and believes she knows better than her elders. Unlike many nineteen-year-olds, she is about to inherit a kingdom that is on its knees – corrupt, debauched and dangerous.

Kelsea will either become the most fearsome ruler the kingdom has ever known . . . or be dead within the week.

Combining thrilling adventure and action, dark magic, mystery and romance,
The Queen of the Tearling
is the debut of a born storyteller blessed with a startling imagination.
Released:
July 17th 2014
Pages:
434
Publisher:
Bantam
Source:
Library
If there was an award for the most incompetent ruler in YA fiction, it would go to Queen Kelsea of the Tearling. This girl has spent nineteen years in training to be a good queen, but as soon as she reaches the castle, all of that knowledge goes out the window. She threatens her entire nation with invasion by breaking a treaty. The other nation is bigger, stronger, and has a better army, but she thinks she can take them because...why, exactly? She nearly gets herself killed over and over, but somehow manages to survive, even though she has an equally incompetent royal guard. These are supposedly the nation's best soldiers, but they allow not one, but
two
assassination attempts to happen.
I wish I had time to detail each individual problem with this book. Maybe someday I'll return to this and write an expanded review. For now, though, here's another glaring problem: the setting. It seems like a standard high fantasy setting in a medieval era. But apparently it's a dystopian novel? Because--surprise!--it actually takes place in the future, after some ambiguous event called the Crossing. What is that? No technology survived this event, but Kelsea can make a Harry Potter reference? We can't explain this, because instead we have to devote pages and pages to Kelsea's endless descriptions of people, places, emotions, the attractiveness of everyone in her guard, and so on. 434 pages, and not much actually happens--but there's enough description here to last an entire trilogy.
There's a lot of traveling. Then Kelsea spends a lot of time moping. She's not skinny. She's not pretty. She wants to be skinny and pretty--or does she not care? She can't make up her mind, but she's willing to comment on other women's ugliness. Then, 3/4 of the way through, she somehow develops magical powers due to the heirloom jewel she always wears around her neck. It involves flashes of light that are enough to kill a man; that's all we get to know. How does this power work, where does it come from, and how does she control it? Apparently Kelsea's weight problems are more important than this.
Whoever compared this to
A Game of Thrones
could not be more wrong. It doesn't have the complexity, intensity, or awesome characterization that this reference implies. Instead, it's equal parts irritating and yawn-inducing. Not recommended.
Similar Books:
It's a YA fantasy with a focus on political intrigue like
Falling Kingdoms
or
Allies & Assassins,
and has a female main character like
The Girl of Fire and Thorns,
The Poison Throne,
or
The Hundred Thousand Kingdoms.