Otherbound by Corinne Duyvis
Amara is never alone. Not when she's protecting the cursed princess she unwillingly serves. Not when they're fleeing across dunes and islands and seas to stay alive. Not when she's punished, ordered around, or neglected.
She can't be alone, because a boy from another world experiences all that alongside her, looking through her eyes.
Nolan longs for a life uninterrupted. Every time he blinks, he's yanked from his Arizona town into Amara's mind, a world away, which makes even simple things like hobbies and homework impossible. He's spent years as a powerless observer of Amara's life. Amara has no idea . . . until he learns to control her, and they communicate for the first time. Amara is terrified. Then, she's furious.
All Amara and Nolan want is to be free of each other. But Nolan's breakthrough has dangerous consequences. Now, they'll have to work together to survive--and discover the truth about their connection.
Released:
June 17th 2014
Pages:
387
Publisher:
Amulet Books
Source:
Library
I love the premise of this. A boy sees through the eyes of a girl in a Middle Earth-type world every time she blinks: but is she real or some weird hallucination? Did he somehow create her? If not, how did they become connected? This aspect of the book is excellent. Without spoiling too much, I'll tell you that Amara is very real, not Nolan's mental creation, which has interesting implications on both of their lives. I can't stop thinking about this idea. Props to the author for making me think--the books that make you think are the ones that stick with you.
The point of view shifts between Amara and Nolan, creating a sharp contrast between the modern world and Amara's world with each chapter. On one side, Nolan just wants to have a normal life, and I genuinely cared about him. His emotions are all over the map, but then again, so is his life. Connecting to another person's life every time you close your eyes would make anyone a mess; Nolan's reaction to it was believable. I never connected to Amara quite as much, but I still enjoyed reading about her. Her backstory brings out both courage and tenderness in her, sometimes in conflict.
The one problem I have is the plot. It starts out focused, tight, and direct--we know exactly where it's going. About halfway through, it starts to wander, making everyone's motivations less clear. It's not a perfect book by any means, but I enjoyed it. It's more of a 3.5, so I'll round up to 4.
Similar Books:
It walks the line between fantasy and reality like
Invisibility
and
Every Day
. It also reminds me of
The Burning Sky.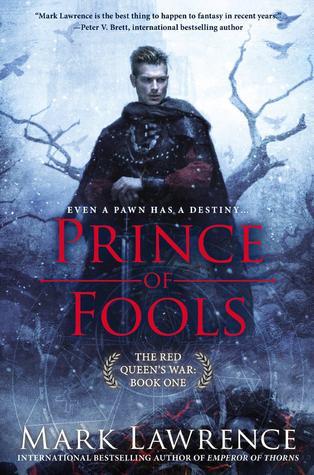 Prince of Fools (The Red Queen's War #1) by Mark Lawrence
The Red Queen is old but the kings of the Broken Empire dread her like no other. For all her reign, she has fought the long war, contested in secret, against the powers that stand behind nations, for higher stakes than land or gold. Her greatest weapon is The Silent Sister—unseen by most and unspoken of by all.

The Red Queen's grandson, Prince Jalan Kendeth—drinker, gambler, seducer of women—is one who can see The Silent Sister. Tenth in line for the throne and content with his role as a minor royal, he pretends that the hideous crone is not there. But war is coming. Witnesses claim an undead army is on the march, and the Red Queen has called on her family to defend the realm. Jal thinks it's all a rumor—nothing that will affect him—but he is wrong.

After escaping a death trap set by the Silent Sister, Jal finds his fate magically intertwined with a fierce Norse warrior. As the two undertake a journey across the Empire to undo the spell, encountering grave dangers, willing women, and an upstart prince named Jorg Ancrath along the way, Jalan gradually catches a glimmer of the truth: he and the Norseman are but pieces in a game, part of a series of moves in the long war—and the Red Queen controls the board.

Released: June 3rd 2013 Pages: 355
Publisher: Ace Source: Library
Prince Jalan is the Tony Stark of high fantasy. Minus, you know, the awesome Iron Man suits. He's arrogant, rich, and loves women almost as much as he loves himself. As such, he's not the type of character we usually like. And yet, Mark Lawrence makes him into a believable, three-dimensional character. He's also surprisingly loyal, with a solid stubborn streak.
Okay, I liked him most of the time. There were moments when I just rolled my eyes. Or wanted him to focus more on imminent death and less on checking out the local barmaids. This leads to my other main problem with this book--the focus. The plot has the same issue as Otherbound, starting out fine but losing focus midway through. Sure, there's the obvious problem of Jalan needing to survive when many people are out to kill him.... Other than that, it's a lot of traveling leading up to one final stand. And most of the traveling is just following around Snorri, a giant Norseman with a backstory that seems much more interesting than Jalan's.
Overall, I enjoyed this book, but I could never get into it enough to love it. The characters are decent, but not fantastic. The plot meanders like Jalan's travel path, and nothing else about it is unique enough to make it stand out from the crowd. I have mixed feelings, so I'll go with three stars.
Similar Books:
The main character reminds me of
The Lies of Locke Lamora.
It also reminds me of
The Dragon's Path
and
Half a King.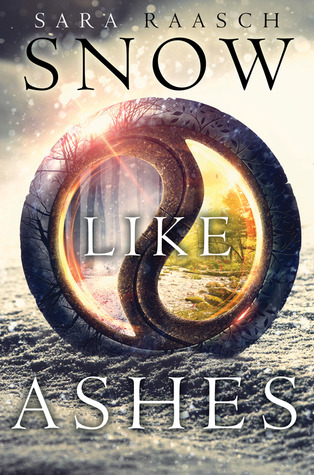 Snow Like Ashes (Snow Like Ashes #1) by Sara Raasch
A heartbroken girl. A fierce warrior. A hero in the making.

Sixteen years ago the Kingdom of Winter was conquered and its citizens enslaved, leaving them without magic or a monarch. Now, the Winterians' only hope for freedom is the eight survivors who managed to escape, and who have been waiting for the opportunity to steal back Winter's magic and rebuild the kingdom ever since.

Orphaned as an infant during Winter's defeat, Meira has lived her whole life as a refugee, raised by the Winterians' general, Sir. Training to be a warrior—and desperately in love with her best friend, and future king, Mather — she would do anything to help her kingdom rise to power again.

So when scouts discover the location of the ancient locket that can restore Winter's magic, Meira decides to go after it herself. Finally, she's scaling towers, fighting enemy soldiers, and serving her kingdom just as she's always dreamed she would. But the mission doesn't go as planned, and Meira soon finds herself thrust into a world of evil magic and dangerous politics – and ultimately comes to realize that her destiny is not, never has been, her own.
Released:
October 14th 2014
Pages:
416
Publisher:
Balzer + Bray
Source:
Library
It took me awhile to warm up to this one. I was initially attracted to the awesome cover, as well as the idea of nations based on the seasons. I had been trying to get my hands on this for a few months, so I was excited to begin, but it starts out slow. We're introduced to Meira and the other refugees all at once, giving us way too many names to keep track of in the first chapter alone. Meira is upset because the leader of their group, Sir, won't let her go on a mission. Then, she's angsting over her love for Mather, the future king. I prepared myself for a disappointment.
Luckily, the more I read, the more this book redeemed itself. The plot picks up about a quarter of the way through, with a healthy dose of unexpected twists. It's a struggle to reclaim a kingdom, but it's also Meira's struggle to find her place in a nation not her own. While Meira often grated on my nerves, she grew on me by the final few chapters. She's prone to brooding over which prince she loves more, but she's also headstrong and deeply devoted to her fellow Winterians.
The side characters in this book are also well-done. There's Mather, the prince with the weight of a destroyed kingdom on his shoulders, and Sir, the father figure of the entire refugee group, and Theron, the other prince who'd much rather spend his days writing than running a nation, and others.
This book is strongest in its last section. While I wish the entire thing was up to this level, I'm glad that it got there eventually. (This might bode well for future sequels.) I wish it had less a focus on a romance that, at times, seems trivial and needless, but I enjoyed it overall. I'm looking forward to the rest of the series.
Similar Books:
It features a female main character with magic power, like
The Young Elites, Shadow and Bone
, and
The Girl of Fire and Thorns
.