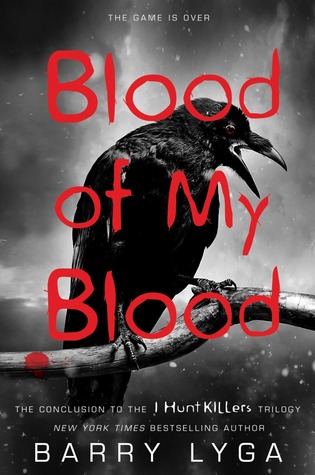 Jazz Dent has never been closer to catching his father.



Jazz has been shot and left to die in New York. His girlfriend, Connie, is in the clutches of Jazz's monstrous father, Billy--the world's most notorious serial killer. And his best friend, Howie, is bleeding to death on the floor of Jazz's new home.

Somehow, these three must rise above the horrors and find a way to come together in pursuit of Billy.

But then Jazz crosses a line he's never crossed before, and soon the entire country is wondering: "Like father, like son? Who is the true monster?"

From New York City to the small town of Lobo's Nod, the chase is on, and this time, Jazz is the hunted, not the hunter--while Billy Dent lurks in the shadows.

And beyond Billy? Something much, much worse. Prepare to meet...the Crow King.
Released:

September 9th 2014

Pages:

464

Publisher:

Little, Brown

Source:

Library




I loved

I Hunt Killers

when I first discovered this series in February of 2014, but

Game

wasn't up to par. Sure, it had all of the action and mystery that I expected from the series, but I found myself disappointed with the lack of attention to the psychological aspect of psychological thriller. It was good, but it suffered from middle-of-the-trilogy sagging.




Blood of My Blood, as the finale, does not have this problem.




In this final installment, Barry Lyga has brought back the nature vs. nurture tension in full force. Now that Billy Dent is on the loose again, it seems that only one person can stop him for good--Jazz. It becomes a race to stop a serial killer without becoming one. In this, it raises some ethical questions: would Jazz be right to kill Billy? Does Jazz himself deserve punishment for things he's done? I'll admit to doubting Jazz, especially in the second half. This is the brilliance of it. I'm rooting for this character, but I'm not sure anymore if he's above becoming a serial killer. And yet, some part of me still wants to see him succeed.




Like I wrote in my review of I Hunt Killers, this series takes nature vs. nurture to a whole new level. What if you had both working against you? In this book, Lyga delves deeper into this conflict than ever before. The world is pushing Jazz to his limits, and it makes him genuinely unpredictable. I thought I had him pegged, but then he turns this inside-out.




The plot itself can be just as unpredictable as Jazz himself. It drops a few big reveals throughout--but some aren't reliable. Then you adjust, try to figure out what's coming, but you're wrong again. We learn things about Jazz's past, his family, and himself. Connie and Howie's chapters are slower, since most of them take place in hospitals, but they provide some necessary breathing room.




The epilogue gives just the right amount of closure. It's not all happy, but with this series, "and they lived happily ever after" would feel wrong. The aftermath of a childhood like Jazz's isn't pretty, but Barry Lyga writes it honestly, and that's all that matters. Overall, it's a satisfying ending to the series. I Hunt Killers is still my favorite of the three, but Blood of My Blood carried enough intensity and depth to give the series a strong finish.
Similar Books:
It deals with the same nature vs. nurture issue as
Project Cain,
and is a YA serial killer book in general like
Dear Killer.
It also reminds me of
Boy Nobody.